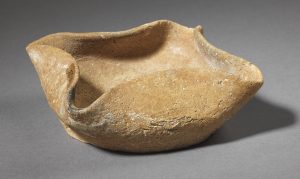 Object Title:

Oil Lamp

Object Name:

Lamp

Object Number:

955.165.30

Description:

Lamp. Brownish drap ware with many white grits; 4-spouted; wide round base, Square, with rim pinched in 4 places for spouts. One spout blackened.

Dimensions:

4.8 x 12 x 12.5 cm

Material:

Ceramic (earthenware), wheel-thrown

Geography:

Excavated at Jericho, Palestine

Period:

Early Bronze Age IV

Date:

c. 2350-2000 BCE

Field Collector:

Dame Kathleen Mary Kenyon; British School of Archaeology; American Schools of Oriental Research

Museum Collector:

Dr. A. Douglas Tushingham

1953 Archaeological Context:

J Tomb H17

Excavation Number:

2

Cross References:

Published References:

Kenyon, Kathleen M. Excavations at Jericho, Volume One. London: British School of Archaeology in Jerusalem, 1960: pp. 220, 224, 225, Figures 81:17, 83.