Created by
J. Elyse Richardson (BAH Classics and Art History '20)
Elyse Richardson is a fourth year student of Classics and Art History, set to do a masters in Museum Studies at the University of Toronto in September 2020.  She began this project in September 2019 as an independent research paper. Upon completing the paper, Elyse, along with her supervisor Dr. Reeves, felt that it was important to make the information as accessible as possible. Thus began the process of turning the project into an online exhibit so that this once forgotten museum would never be lost again.
A research poster about this project was presented at the 14th Annual Inquiry @ Queen's Undergraduate Research Conference.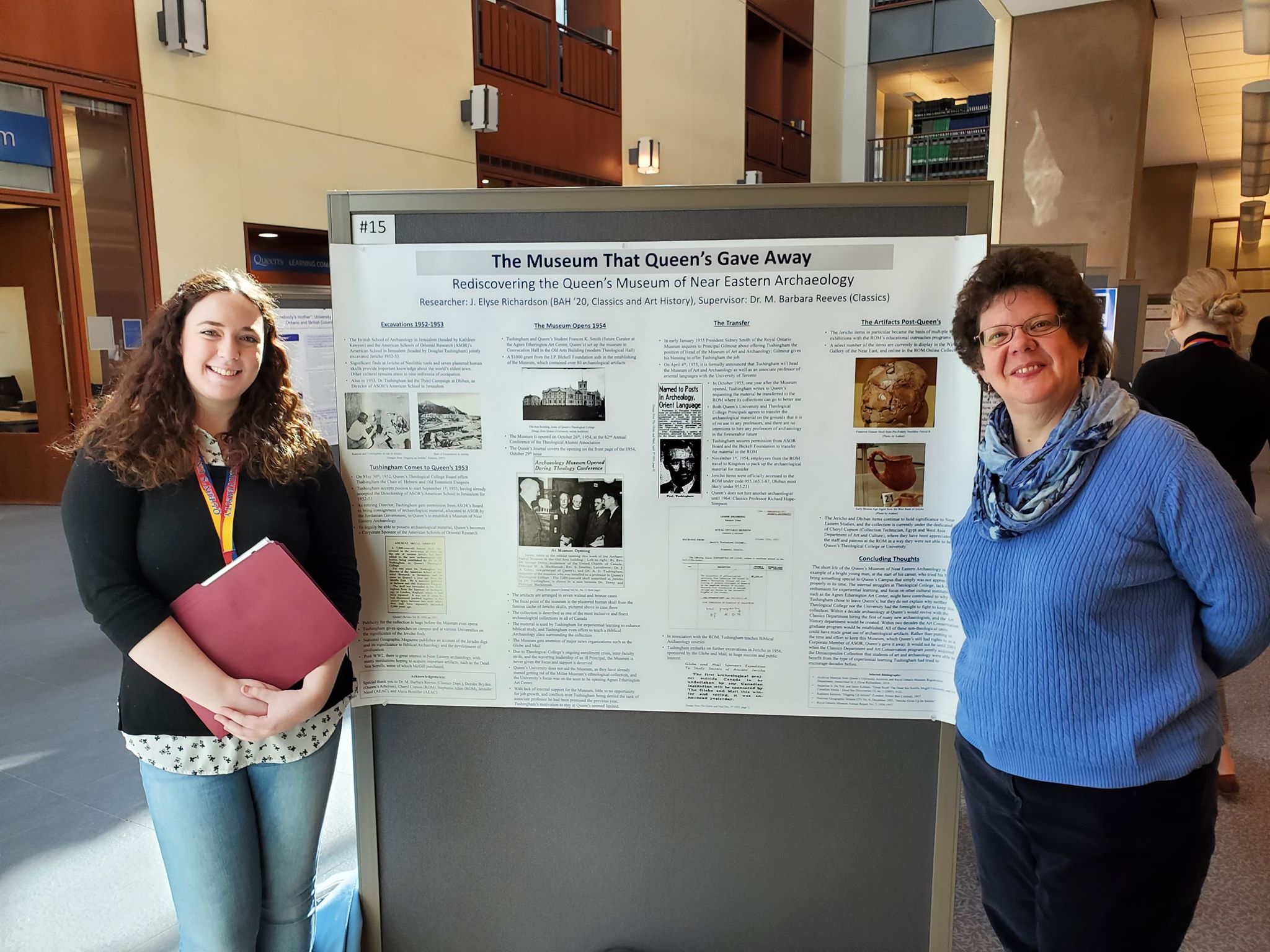 A full version of the paper which this online exhibit is based on is available at Queen's University Archives under the title: The Museum That Queen's Gave Away: Rediscovering the Queen's Museum of Near Eastern Archaeology. By: J. Elyse Richardson.
Dr. M. Barbara Reeves (Classics)
Dr. M. Barbara Reeves is a classical archaeologist who has been excavating in Jordan since 1995 and has directed excavations at Humayma and Wadi Ramm. She stumbled upon the 1954 Queen's Journal article about the Museum of Near Eastern Archaeology's opening while researching the history of archaeology at this institution during Queen's and its Classics Department's 175th anniversary in 2017. This discovery prompted the idea to initiate a research project so that Queen's museum and its contents could once again become accessible to scholars and the general public.
Learn more about Dr. Reeves' research here.
For more information please contact Dr. Reeves at: reevesb@queensu.ca
How to Cite this Exhibit
Richardson, J. Elyse and M. Barbara Reeves. "The Queen's Museum of Near Eastern Archaeology," Virtual Exhibits. Queen's University Library, April 2020. https://virtual-exhibits.library.queensu.ca/museum-of-near-eastern-archaeology/.