Legalities and Shipment
According to the policy of the Jordanian Department of Antiquities in the 1950s, organizations, such as ASOR, who undergo sanctioned archaeological field work, were consigned a small division of the findings. Artifacts consigned to ASOR could only be possessed by an ASOR affiliated organization, thus Queen's became an ASOR Corporate Sponsor effective from July 1st 1953, for $100 a year. With approval from the ASOR Board, as well as the legalities sorted out, the archaeological items were sent directly to Theological College in Kingston sometime during June of 1953.
Setting Up The Museum
It took approximately a year for the museum to be set up, during which time the presence of the archaeological items at Queen's was of great interest in the news. The National Geographic Magazine published an almost 20 page feature in December 1953 about the archaeological excavations in Jericho. Other articles were also written in the Globe and Mail as well as the Queen's Review. During the year, the physical set up of the displays was handled by Dr. Tushingham as well as Frances K. Smith, a student of Queen's University. Smith would go on to work at the Agnes Etherington Art Center from its inception at Queen's, playing a significant role in the operations until her retirement in 1980 as Curator Emeritus. The financial costs for setting up the Museum were covered almost entirely by a $1000 grant from the J.P. Bickell Foundation.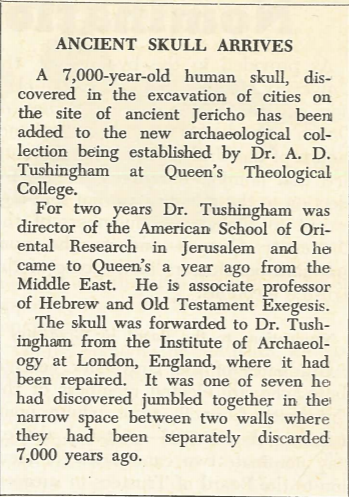 The  Museum Opens
The Museum was located in Convocation Hall at the west end of the Old Arts Building (room 215 in modern Theological Hall). It formally opened on October 26th, 1954, to coincide with the 62nd Annual conference of the Theological Alumni Association. Dr. Tushingham wrote a brochure for the Museum to be handed out to Alumni, but no copies of this were able to be located thus far. The only extant photo of the Museum was published in the 82nd volume of the Queen's Journal, along with an article describing the general contents of the seven cases in the Museum.