Learn more about:
25 Things to Do at Stauffer
To celebrate Stauffer Library's 25th anniversary, the Queen's University Library has been sharing its top #25ThingsToDoAtStauffer on social media. Follow along below!
About Stauffer: The Building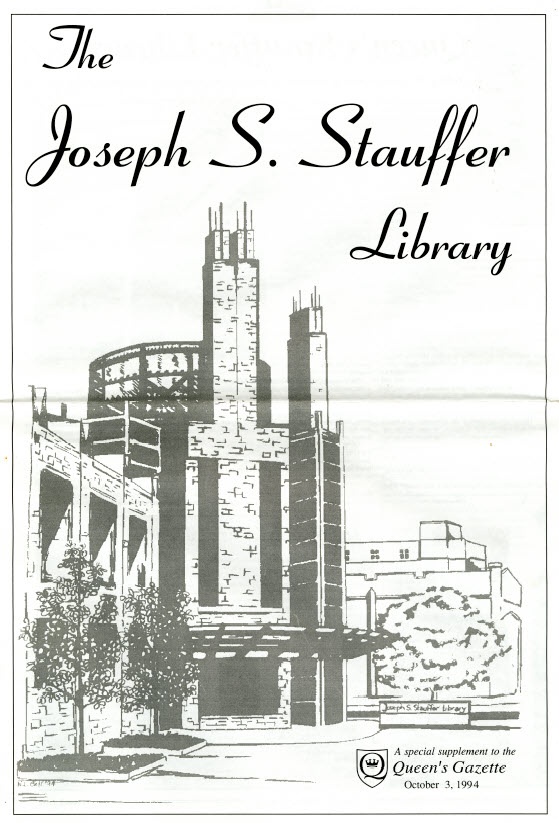 To learn more about Stauffer Library, read this
Special Supplement to the Gazette
from October 3, 1994 (Queen's University Archives).
At the time of its opening in 1994, Queen's chief librarian Paul Wiens called Joseph S. Stauffer Library the "centrepiece for library renewal" (see the Special Supplement to the Gazette at left). "It stands for a revitalized library system," he said, adding that its mandate was to link the print and electronic dimensions of the information universe.
Plans for a new library – a "library of the 21st century" – were in the works as early as 1988. With the popularization of the internet and the beginning of the digital age, a new library was critical in order to respond to the rapidly changing needs of students, faculty, staff, and community members. One of several task force reports on the state of the library said that "a new central library facility will probably be the largest single undertaking on the campus for the balance of the century."
Before Stauffer, Douglas Library, completed in 1924, was the first building on campus to be built specifically for the library. Prior, the library had been located in St. Andrew's Church in downtown Kingston; the attic of the university's rented home at 320 Princess Street, where Queen's was based from 1842-1844; Summerhill; the Old Medical Building; and the Old Arts Building (now Theological Hall).
For many years, Douglas Library was the home of the entire library collection and University Archives. Offices for school officials, including the principal, were also located in Douglas Library until Richardson Hall was built in the 1950s. But, as tends to be the case for libraries, Douglas quickly filled up. An addition was built in 1966, but was soon filled by the library's expanding collections.
Construction of Stauffer Library began in 1992, and it opened its doors two years later for the 1994-1995 school year. Named after Joseph S. Stauffer, the library became a reality in large part due to the generosity of this alumnus.
Joseph S. Stauffer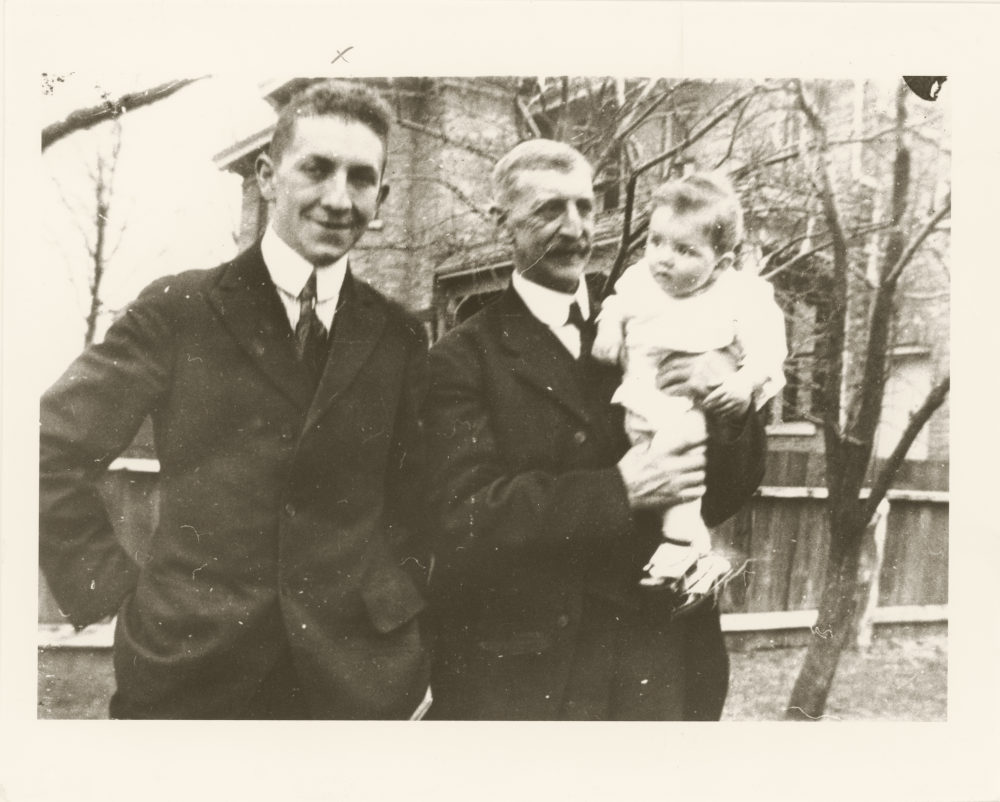 Joseph S. Stauffer, left (Queen's University Archives).
Joseph Stanley Stauffer was born in Galt, Ontario in 1896. His father, Joseph Stauffer Sr., owned three successful textile mills, and instilled in his son a strong work ethic that carried him throughout his life.
In 1914, Joseph S. Stauffer enrolled in Applied Science at Queen's, majoring in metallurgy. However, he did not stay in Kingston for long; he enlisted in the Royal Navy Air Service and served overseas in 1916-1917. Stauffer's service was ended abruptly when his plane was shot down. After recovering in a military hospital in England, Stauffer returned to Canada to resume his studies. The military remained important to him throughout his life – until his death, Stauffer was a member of the Royal Canadian Military Institute in Toronto.
After obtaining his bachelor's degree from Queen's in 1920, Stauffer worked for two years as an engineer. He then chose to take a post-graduate course in fuel technology at the Imperial College of London. Stauffer went on to have an illustrious career, though few details of his business activities are known. "Everything always seemed to work out well for Joseph Stauffer," his nephew, Mr. J. Stauffer, wrote in a biography.
A deeply humble man, he spent his life living well within his means in a Toronto apartment with his wife. He was involved in the growing telecommunications industry – he sold a number of telephone exchanges to Bell – in addition to mining, finance, fuel technology, and a brief stint in his father's textile business. Stauffer's response to being asked about his career in a 1970 questionnaire sent to the class of 1920 is indicative of his humble character: "I prefer none of this be mentioned, it is historical and definitely of no value – to give the names of company and position represents vanity. The main fact is that I survive."
Joseph Stauffer died in 1978. From his estate, he created the Stauffer Foundation. Projects the foundation has funded closely align with Stauffer's own interests and values. Of particular note was his belief that Indigenous Peoples of Canada were deserving of justice: funding from the Stauffer Foundation was instrumental in establishing some of Canada's first Indigenous Studies programs, particularly at Trent University.
A proud Queen's alumnus, Stauffer has always supported his alma mater. While alive, he made a number of anonymous donations to the university, most notably providing pensions to widows of Queen's professors. The Stauffer Foundation has continued Stauffer's tradition of giving to Queen's since his passing. Some of these gifts include: $1 million for a chair in cancer research; $1.2 million to build the School of Policy Studies; and $2.3 million for Walter Light Hall.
Of course, one of the Stauffer Foundation's most substantial gifts to Queen's was a sum of $10 million to support the construction of Stauffer Library, named in his honour.
The Stauffer Foundation is still active today, and like the man who started it, it is fairly quiet in its dealings. Throughout the years, the Stauffer Foundation has maintained its connection to Queen's University and the library. In honour of the building's 25th anniversary, the Queen's University Library requested funds for a new Learning Space in Stauffer Library's lower level.
Recognizing the importance of having visibly Indigenous spaces on campus, the library proposed the creation of an Indigenous Learning Space. This space could be used for events and classes, as well as for independent study when not in use. The space is envisioned as being welcoming to Indigenous students and faculty, while at the same time enriching the learning of non-Indigenous library patrons. In keeping with Stauffer's belief that Indigenous Peoples of Canada are an important and under-served group, the Stauffer Foundation accepted the library's proposal. Furthermore, the Stauffer Foundation gift will be funding a 25th anniversary speaker series and the creation of six Indigenous study rooms in other Queen's University Library locations.