Virtual Reality Recording of Archaeological Artifacts: The Diniacopoulos Collection
Kristen Jones (BAH Classics)
The field of virtual reality is quickly growing across many disciplines, if none more important than the field of archaeology and cultural heritage. Numerous artifacts are uncovered each year by archaeological excavations around the world, and only a select few are displayed and recorded in museums while the rest remain hidden away in storage facilities. The use of virtual reality photography provides a potential solution to this problem. This projects aims to optimize a computational work flow for digitally documenting these artifacts through an in depth analysis of the Diniacopoulos Collection of Greek and Egyptian artifacts in collaboration with the Art Conservation department at Queen's University. The Diniacopoulos Collection of artifacts has been held by Queen's since their donation in 2001 by the estate of Olga Diniacopoulos. This project combines studio Photogrammetry with a method known as Focus Stacking to optimize the quality of each image. First, images of each object will be used to generate scaled photogrammetric models in Agisoft Photoscan. The same images used to create the 3D models can also be used to create lower-resolution virtual reality movies that are easily shared on websites using the GardenGnome ObjectVR software. Utilizing another growing industry, 3D printing, takes this method one step further. 3D printing archaeological finds provides people with a tactile experience with the artifacts that would otherwise be kept safe inside museum cases or warehouses where the public has no access. These methods have applications is not only archaeology, but in a number of collaborative fields.
---
Best Practices for Developing Virtual Exhibits
Marissa Monette (BAH Art History)
This project's purpose is the development an online exhibit for a selection of vessels from the Diniacopoulos Collection, acquired by Queen's University in 2001, and to explore the best practices for such online exhibits. This collection of sculptures, coins, and ceramics, among other artifacts, was amassed in the early 20th century by Vincent and Olga Diniacopoulos. Ten of the artifacts, ranging from the prehistoric to the late Roman period, are displayed in a glass case in the Classics Department. This display necessarily limits the viewer's understanding of the vessels' decoration and form, a problem that is particularly acute in the case of the painted vessels. It is argued that an online platform is more interactive and informative by attempting to be as intuitive to navigate as walking through an exhibit. Virtual reality and object movies present the artifacts in 360 degrees and are fully controlled by the user. This enables a careful examination of the artifacts' characteristics.  This online exhibit does not endeavor to replace or degrade the objects and their value by presenting them digitally. Instead, by being able to access these objects online at anytime with virtual reality amplifies and supports the physical display. The website achieves this by encouraging viewers to visit the collection in person. This online exhibit is designed using Adobe CC 2015 Muse, Illustrator, and Photoshop although in the future, academic web design programs, such as Omeka, could be considered.
---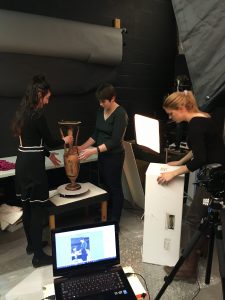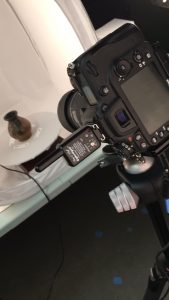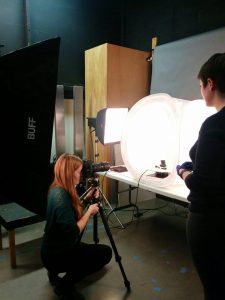 ---
Collection History
The Diniacopoulos Family
Vincent Diniacopoulos (1886-1967) was born in Istanbul to Greek parents and began collecting at a very young age in the countryside where he grew up. Although he never attended university, he continued collecting antiquities once he enlisted in the army. He fought in the Balkan Wars, and was later posted in Cairo and Paris. During this time he continued to collect artifacts, subsidizing these activities by selling artifacts to private dealers and doing restoration work. He was untrained in archaeology and restoration, however, his wife Olga Diniacopoulos (1906-2000) was. She was born in Cairo, and moved to Paris to study archaeology at the Ecole du Louvre and Sorbonne. There she met and married Vincent Diniacopoulos prior to WWII. After the war had ended, they consolidated their collection they had accumulated, some for various institutions including Musee du Louvre, and moved to Montreal.
In Montreal, the couple, with their only son, attempted to gift artifacts to various eastern Canadian institutions and find exhibition space. When they could not find gallery space, they retained their large collection in the family home. During the 1990s, Olga was widowed and her health was declining, consequently she decided to disperse her collection of approximately 2000 objects spanning five millennia. The collection was assessed, auctioned off, and donated to various institutions.
The Collection Now
The collection's history is tumultuous and largely undocumented based on the way that it was collected which would not follow modern current legal and ethical standards. In 2001, Queen's University's Classics Department, and Art Conservation Department acquired coins, ceramic vessels, and other archaeological artifacts from the estate of Olga Diniacopoulos. Due to the poor storage, and documentation of the collection prior to accession at Queen's University several of the artifacts have undergone extensive conservation treatment by the artifact treatment stream students of the Art Conservation Department. These vessels are currently on display in Watson Hall, and are now available for viewing in this virtual exhibit.